Money laundering is the process by which large amounts of illegally obtained is given the appearance of having originated from a legitimate source. So basically, all the ways to convert the black money into white money are Money laundering. But in Money laundering, the black money must involve a predicate crime such as the violation of Indian Penal Code, IPC, Narcotics, Prevention of Corruption Act and Human Trafficking.
Pic Courtesy- Banking Exchange
This is because in India, stashing black money is simply a civil crime involving tax evasion, money laundering has criminal dimensions related to black money. That is why, we use the term Dirty Money in this context.
History
Organised societies with flourishing monetary systems have been plagued by effects of money laundering (in various forms) and such societies have also been combating the same ever since. In most jurisdictions across space and time, an enduring method to 'salvage' one's wealth from unwanted state action, has been the use of parallel banking or Informal value transfer systems that allowed people to move money out of the country avoiding state scrutiny. On the other hand, rulers, administrators, and governments have also been acting against such activities in some way or other sometimes, by declaring such practices to be illegal outright, and on some other times, permitting a free run with the ambitions of generating more wealth to finance the state machinery.
On that note, an attempt is hereby made to understand the way money laundering activities take place in India a country which is fast emerging as an economic superpower, alongside a long history of prevailing graft and corrupt practices at various levels
Modus operandi
A case of Money laundering ostensibly appears to be an above-board financial transaction, however, the criminality underneath is hidden by a three stage process :
The first stage is when the crime money is injected into the formal financial System. This is called'placement';
In the second stage, money injected into the system is layered and spread over various transactions with a view obfuscate the tainted origin of the money. This process is called 'layering';
In the third and the final stage, money enters the financial system in such a way that original association with the crime is sought to be obliterated so that the money can then be used by the offender or person receiving as clean money. This is called 'Integration'.
Common forms of money laundering
Structuring, Bulk Cash Smuggling, Cash Intensive Businesses, Trade-based laundering, Shell companies and trusts, Round-tripping, Bank Capture, Gambling, Real Estate, Black Salaries, Fictional Loans, Hawala, False invoicing are some of the common methods of money laundering.
Pic Courtesy- Economic times
Laws Regarding Anti-Money Laundering
The Prevention of Money Laundering Act, 2002 as amended upto 2012(the PMLA Act)
There are various laws, rules and regulations which deal with money laundering activity. The PMLA Act is an umbrella statutory framework which prohibits and criminalises money laundering activities.
Under the PMLA Act, a "Reporting Entity" has an obligation to identify clients, maintain records and furnish information to FIU-IND. 'Reporting Entity' includes a banking company, financial institution, capital market intermediaries, persons engaged in gaming business, real estate agents, jewellery and diamond dealers, etc. The PMLA Act empowers the Director, FIU-IND to impose fine on any 'Reporting Entity' for failure to comply with the obligations of maintenance of records, furnishing information and verifying the identity of clients/customers. Any person involved in an act of money laundering can be prosecuted and punished under the PMLA Act.
Prevention of Money Laundering (Maintenance of Recors) Rules, 2005 as amended upto 2013( the PMLA Rules)
The PMLA Rules specify the procedure and manner for maintenance and retention of records.
As per Rule 3, every Reporting Entity is required to maintain records of:
All cash transactions of the value of more than rupees ten lakhs or its equivalent in foreign currency;
All series of cash transactions integrally connected to each other which have been valued below rupees ten lakhs or its equivalent in foreign currency where such series of transactions have taken place within a month and the monthly aggregate exceeds an amount of ten lakh rupees or its equivalent in foreign currency;
All transactions involving receipts by non-profit organisations of value more than rupees ten lakh, or its equivalent in foreign currency;
All cash transactions where forged or counterfeit currency notes or bank notes have been used as genuine or where any forgery of a valuable security or a document has taken place facilitating the transactions;
All suspicious transactions whether or not made in cash;
All cross border wire transfers of the value of more than five lakh rupees or its equivalent in foreign currency where either the origin or destination of fund is in India; and
All purchase and sale by any person of immovable property valued at fifty lakh rupees or more that is registered by the reporting entity, as the case may be.
Under these PMLA Rules, a suspicious transaction means a transaction including an attempted transaction, whether or not made in cash, which to a person acting in good faith:
gives rise to a reasonable ground of suspicion that it may involve proceeds of an offence specified in the PMLA Act, regardless of the value involved;
appears to be made in circumstances of unusual or unjustified complexity; or
appears to have no economic rationale or bona fide purpose; or
gives rise to a reasonable ground of suspicion that it may involve financing of the activities relating to terrorism.
Under section 12(3) of the PMLA Act, the record referred to above shall be maintained for a period of 5 years from the date of transactions between the clients and the reporting entity.
The Black Money (Undisclosed Foreign Income and Assets) And Imposition of Tax Act, 2015
The purpose of this Act is to deal with the menace of the black money existing in the form of undisclosed foreign income and assets by setting out the procedure for dealing with such income and assets and to provide for imposition of tax on any undisclosed foreign income and asset held outside India and for matters connected therewith or incidental thereto.
The Act came into force with effect from July 1, 2015. It gives the Income Tax Authorities the power to impose tax and penalties on all the residents who fail to disclose their foreign income and assets and also makes the offence liable to be punished by way of rigorous imprisonment. However, the Government of India has given one time option to all Indian citizens to declare their existing undisclosed foreign income and assets before 30th September 2015, and comply with the corresponding tax obligation without facing prosecution under this Act.
Other Laws
Foreign Exchange Management Act, 1999.
It prescribes checks and limitations on various foreign exchange remittances.
Benami Transactions (Prohibition) Act, 1988.
It prohibits transactions in which property is transferred to one person for consideration paid or provided by another person.
Benami Transactions (Prohibition) Amendment Bill, 2015.
The Bill is still pending in the Parliament. It aims to expand the definition of Benami Transactions and specifies the penalty to be imposed on a person entering into a Benami transaction. The Bill has provisions for establishing the Adjudicating Authorities and an Appellate tribunal to deal with the issue of Benami transaction.
Narcotics, Drugs and Psychotropic Substances Act, 1985 as amended up to 2014.
It provides for confiscating sale proceeds acquired in relation to any narcotic drug or psychotropic substance and any goods used to conceal such drugs. It provides for forfeiture of any illegally acquired property.
The Prevention of Illicit Traffic in Narcotic Drugs and Psychotropic Substances Act, 1988.
It authorizes detaining persons to prevent illicit traffic in narcotic drugs and psychotropic substances.
RBI's Know-Your-Customer and anti-money laundering norms.
RBI has prescribed know-you-customer and anti-money laundering norms for banks, financial institutions and money changers to adhere to.
SEBI's Guidelines for Anti-Money Laundering Measures.
The SEBI has published guidelines for capital market intermediaries to follow under the PMLA Act.
Anti-Money Laundering/Counter Financing of Terrorism (AML/CFT) –Guidelines for General Insurers, 2013.
IRDA has issued anti-money laundering guidelines applicable to insurers. Establishment of AML programs by financial institutions is one of the central recommendations of the Financial Action Task Force (FATF) and also forms part of the Insurance Core Principles (ICPs) of the International Association of Insurance Supervisors (IAIS). Accordingly, the Authority has decided to put in place the following regulatory guidelines/instructions to the Insurers, Agents and Corporate agents as part of a Programme on Anti Money Laundering/Counter Financing of Terrorism (AML/CFT) for the insurance sector. Each insurance company has to establish and implement policies, procedures, and internal controls/audit in its AML/CFT program. Insurers are also required to maintain records of their transactions under these guidelines.
Procedure under the PMLA
Obligations of the Reporting Entities
The reporting entities are tasked under the provisions of the PMLA to perform the major activities mandated by the law. In their specific capacities are obligated to perform certain functions, which concisely include the followings:
Maintenance of records;
Furnish information pertaining to such records;
Verification of identity of its clients by carrying out due diligence procedures;
Identification of beneficial owner, in respect of the transactions undertaken with its various clients.
The aforesaid obligations in detail are provided under section 12 of the PMLA. In addition to the above-mentioned obligations, it is also the duty of the reporting entities to provide access to necessary information as and when called for by a director (appointed under the provisions of the PMLA). The necessary provisions in this regard occur under section 12A of the PMLA.
For all the obligations which are to be shouldered by a reporting entity, the PMLA specifically gives exclusions to reporting entities against any kind of civil or criminal proceedings. Such exclusion or exemption also extends to the directors and/or employees of the concerned reporting entity.
Monetary Penalties on Reporting Entity
Notwithstanding the protection of law according to reporting entities, it may also be noted that the reporting entities are also subject to vigilance and for obligatory violations, such reporting entities may also get penalised.
In accordance with the provisions of Section 13(2)(d), it may be noted that reporting entities may get penalised for non-maintenance of records or non-submission of information sought from such reporting entity. As such, monetary penalties can be imposed on defaulting reporting entity or its designated director on the Board or any of its employees, which shall not be less than ten thousand rupees but may extend to one lakh rupees for each instance of failure.
Burden of Proof
The offence of money laundering as noted under section 3 of the PMLA is considered an aggravating one, and an accusation under the same shifts the onus of proof on the person accused of having committed the offence, as such.
Following the provisions as noted above, In the case of a person charged with the offence of money-laundering under section 3, the Authority or Court shall, unless the contrary is proved, presume that such proceeds of crime are involved in money-laundering; and In the case of any other person the Authority or Court, may presume that such proceeds of crime are involved in money-laundering.
Presumption of inter-connected transactions
In cases where money laundering was effected by involvement of two or more inter-connected transactions and one or more such transactions is or are proved to be involved in money laundering, then for the purposes of adjudication or confiscation, it shall be presumed that the remaining transactions form part of such inter-connected transactions. The relevant provision in this regard occur under section 23 of the PMLA.
Essentially, under PMLA, the burden of proof lies on the person who claims that the proceeds of crime alleged to be involved in Money-Laundering, are not involved in Money-Laundering. The presumption against the accused or any 3rd party is good enough to discharge the onus of the authorities under PMLA.
Even in the case of Records, and Properties, which are found in the possession or control of any person in the course of a survey or search under the Act (Section 16, Section 17 and Section 18 of PMLA), under a presumption is raised that such records or property belongs to such person, and the contents of such records are true, and further that signatures and any part of such records in hand-writing of a particular person or in the hand-writing of such person, the presumptions as to the records in property are absolute, and the onus to prove the same otherwise, lies on such person.
It is clear that, a person accused of an offence under Section 3 of PMLA, whose property is attached and proceeded against for Confiscation, shall discharge the onus of proof (Section 24) vested in him by disclosing the sources of his Income, Earnings or Assets, out of which or means by which he has acquired the property attached, to discharge the burden that the property does not constitute proceeds of crime.
Where a transaction of acquisition of property is part of inter-connected transactions, the onus of establishing that the property acquired is not connected to the activity of Money-Laundering, is on the person in ownership, control or possession of the property, though not accused of a Section 3 offence under PMLA, provided one or more of the interconnected transactions is or are proved to be involved in Money-Laundering.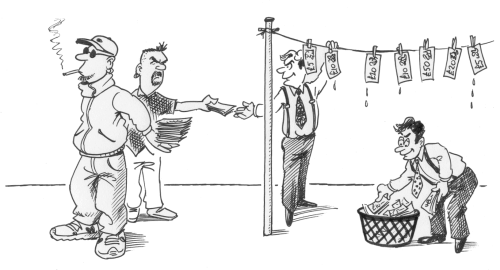 Pic Courtesy- Haven risk managment
Attachment
Defined under section 2 clause 1(d), the term attachment refers to the procedure for transfer, conversion, disposition or movement of property in pursuance of an order passed in accordance with chapter III of the PMLA.
Kinds of Penalties under the PMLA
The PMLA is a piece of criminal legislation, where presumption of guilt has precedence and the burden of proof lies on the person accused of a violation. Following this there are certain penalties which are prescribed within the provisions of the PMLA.
The PMLA prescribes that any person found guilty of money-laundering shall be punishable with rigorous imprisonment from three years to seven years and where the proceeds of crime involved relate to any offence under paragraph 2 of Part A of the Schedule (Offences under the Narcotic Drugs and Psychotropic Substance Act, 1985), the maximum punishment may extend to 10 years instead of 7 years.
Powers of attachment of tainted property Appropriate authorities, appointed by the Govt of India, can provisionally attach property believed to be "proceeds of crime" for 180 days. Such an order is required to be confirmed by an independent Adjudicating Authority.
The Authorities – PMLA
Section 48 of the PMLA lays down the provision on the authorities holding competence under the Act. The authorities are as follows.
Director or Additional Director or Joint Director,
Deputy Director,
Assistant Director, and
such additional directors/officers whose appointment may be deemed necessary under the provisions of the PMLA.
Special Court and Appellate Tribunals
Special Courts
Section 43 of Prevention of Money Laundering Act, 2002 (PMLA) says that the Central Government, in consultation with the Chief Justice of the High Court, shall, for trial of offence punishable under Section 4 of the PMLA, by notification, designate one or more Courts of Session as Special Court or Special Courts for such area or areas or for such case or class or group of cases as may be specified in the notification.
Section 43 and the relevant subsequent provisions in this regard.
Trial under Special Courts formed under the PMLA
Special courts formed under the provisions of the PMLA are empowered to take cognisance of complaints made by an authority authorised in this behalf under the PMLA. And even if the proceedings under the provisions of the PMLA are being conducted by a court other than a special court under the PMLA, then the proceedings could be committed to the special courts formed under the PMLA.
The relevant provisions under the PMLA occur under section 44 of the PMLA.
Appellate Tribunals
An Appellate Tribunal under the PMLA is a body which may be appointed by the (union) Government of India. It is given the power to hear appeals against the orders of the Adjudicating Authority, and any other authority under the PMLA.
Orders of the tribunal can be appealed in appropriate High Court (for that jurisdiction) and finally to the Supreme Court.
Procedure of Appellate Tribunals
The appellate tribunals formed under the provisions of the PMLA to adjudicate upon orders of the special courts, are not bound to follow the procedural requirements of the Code of Civil Procedure.
Procedure of appeal to the Appellate Tribunals
Section 26 of the PMLA lays down the procedures pertaining to the filing of appeals to appellate tribunals. The provisions therein specifically permit a 'person aggrieved by an order made by the Adjudicating Authority under this Act, may prefer an appeal to the Appellate Tribunal'. Subsequently, appeals may also be preferred by reporting entities 'aggrieved by any order of the Director made under sub-section (2) of section 13, may prefer an appeal to the Appellate Tribunal'.
Further, it is stipulated that appeals as such are to be filed within a period of forty-five days from the date on which a copy of the order made by the Adjudicating Authority or Director is received and it shall be in such form and be accompanied by such fee as may be prescribed. This is also subject to the provision that the Appellate Tribunal may after giving an opportunity of being heard entertain an appeal after the expiry of the said period of forty-five days if it is satisfied that there was sufficient cause for not filing it within that period. Once an appeal is received by the Appellate Authority, the authority may give an opportunity of being heard to each concerned party and subsequently pass such orders thereon as it thinks fit, confirming, modifying or setting aside the order appealed against.
Representation
An appellant filing an appeal before an appellate tribunal may represent his case in person or take the assistance of an authorised representative. The relevant provision in this regard occur under section 39 of the PMLA.
Appeals to High Courts
In the event there are grievances against orders passed by an appellate tribunal, the aggrieved party may take a further appeal against such order to the high court of competent jurisdiction.
Offences – Cognisable and Non-Bailable
The offences under the PMLA are to be treated as cognisable and non-bailable. The specific provisions in relation thereto occur under section 45 of the PMLA.
Bar on Civil Proceedings
Section 67 of the PMLA specifically lays down that suits cannot be brought in any civil court to set aside or modify any proceeding taken or order made under PMLA, 2002 and no prosecution, suit or other proceeding shall lie against the Government or any officer of the Government for anything done or intended to be done in good faith under the PMLA, 2002
Scheduled Offence
The offences listed in the Schedule to the Prevention of Money Laundering Act, 2002 are scheduled offences in terms of Section 2(1)( y) of the Act.
The scheduled offences are divided into two parts – Part A & Part C.
In part A, offences to the Schedule have been listed in 28 paragraphs and it comprises of offences under various pieces of legislations relating to criminal activities which includes – Indian Penal Code, offences under Narcotic Drugs and Psychotropic Substances, offences under Explosive Substances Act, offences under Unlawful Activities (Prevention) Act, offences under Arms Act, and so on.
Part 'C' deals with trans-border crimes, and is a vital step in tackling Money Laundering across International Boundaries. Prior to 15th February, 2013, i.e., the date of notification of the amendments carried out in PMLA, the Schedule also had Part B for scheduled offences where the monetary threshold of rupees thirty lakhs was relevant for initiating investigations for the offence of money laundering.
However, all these scheduled offences, hitherto in Part B of the Schedule, have now been included in Part A of Schedule w.e.f 15.02.2013. Consequently, there is no monetary threshold to initiate investigations under PMLA.
To conclude i will say that the activities pertaining to money laundering have been rampant in the Indian society, despite best efforts of the government to stop such practices. Through legislation and administrative bodies and efficient regulators who work tirelessly in this regard, the war on money laundering activities continues to go on. However, it may be noted that although such activities may be put in check at a domestic level, it may be taken note of that such practices are never restricted to the confines of a single jurisdiction. Restrictions at a particular jurisdiction, encourage launderers to shift base to another jurisdiction which may provide a hospitable environment for their activities to thrive.
Whereas check needs to be maintained at all times on money laundering activities, it may also be noted that strict economic and taxation policies have a way of getting projected as being punitive on honest people with legitimate business interests. And therefore, one of the better ways to stop money laundering practices may be for governments to take such legitimate interests into confidence and provide them protection and certain benefits, which may altogether stop people from engaging in money laundering activities altogether.